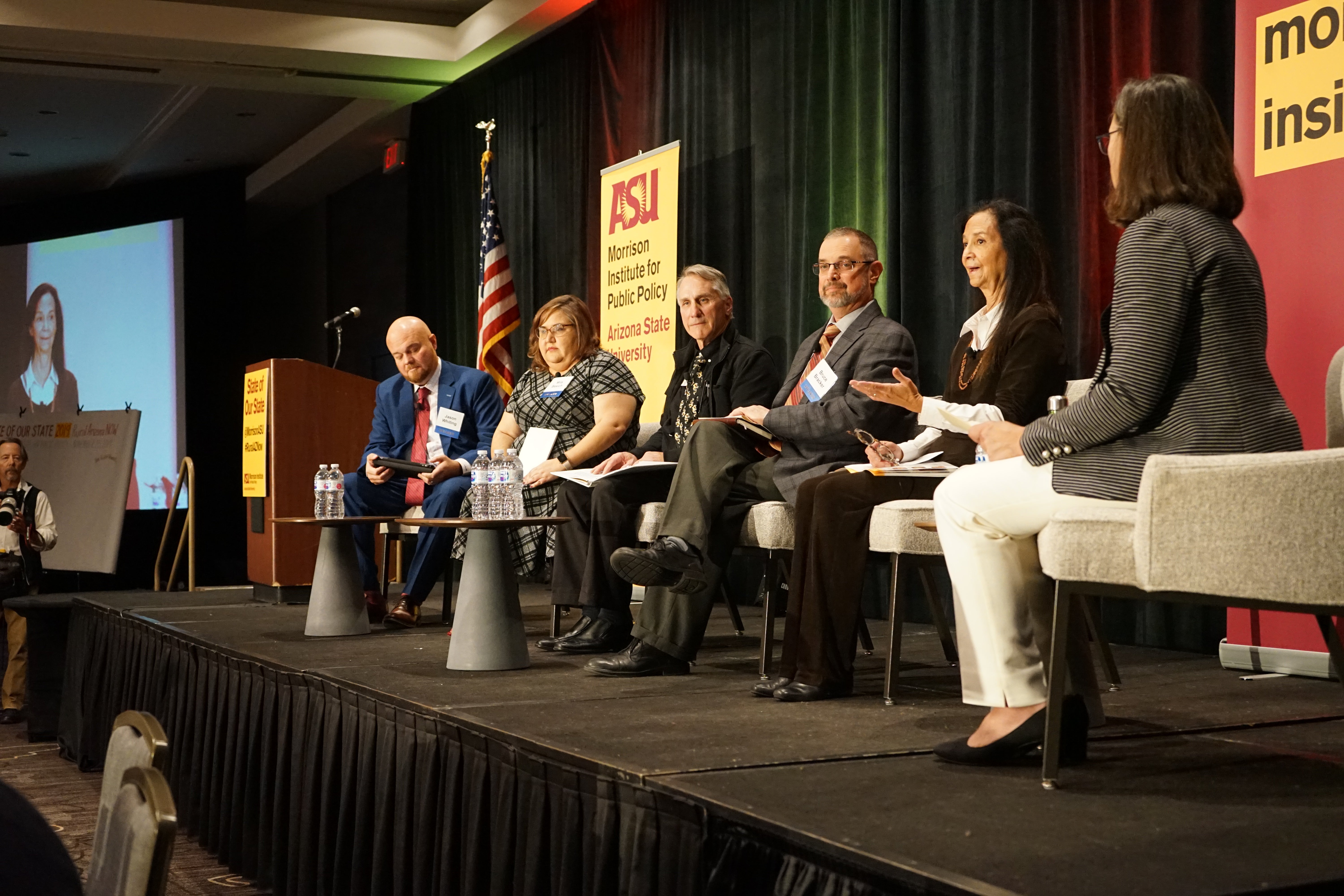 By Kira Olsen-Medina
December 23, 2019
According to Melissa Kovacs, associate director for research at the Morrison Institute for Public Policy, data from Morrison's recent statewide poll corroborated results from another recent study, which found most people incorrectly categorized themselves on a rural/urban self-report. Meaning, based on how the federal government defines "rural" and "urban" communities, most people misclassify where they live.
The statewide poll also revealed that only 17% of rural residents believe Arizona's Legislature has the right priorities.
As Arizona's economy recovers from the 2008 recession, rural communities are still struggling to return to pre-recession unemployment numbers. Kimber Lanning, founder and executive director of Local First Arizona Foundation, explained that of all the jobs created in Arizona, "85% of them are located in Maricopa county and another 5% in Pinal county." 
Issues such as transportation, infrastructure and affordable housing were raised by panelists as major concerns for rural residents. Morrison's poll data showed most Arizonans are concerned about affordable housing: 60% of Arizonans believe government funding for affordable housing should be expanded.
Lawmakers are starting to rethink Arizona's move to deregulate short term rentals because of unintended consequences like artificially inflated rental rates, State of Our State panelists said. Panelist Jane Russell Winiecki, the immediate past president of the Yavapai-Apache Nation, explained that by taking away housing options from the local residents, "the short-term rentals are harming small communities."
In addition, rural areas are struggling to attract a high-skilled labor force to meet their basic community needs. For instance, the town of Parker struggled for three years to recruit a pediatrician to serve their community, said Amanda Aguirre, president & CEO of the Regional Center for Border Health in Yuma, and this is a trend in rural communities, where it is often a struggle to find healthcare workers willing to relocate to less-dense areas.
Morrison Institute also released at the event an interactive map that visualizes a gap analysis related to child abuse and neglect prevention resources in Arizona. This resource, compiled by Morrison Institue Policy Analyst Erica Quintana, shows which communities in Arizona lack vital resources for supporting childhood well-being.
Another issue impacting many rural communities in Arizona is access to the internet and broadband. Issues around connectivity were described as limiting access to the outside world for work, education and more. Traci Morris, director of the American Indian Policy Institute at ASU, said that "95% of tribal communities are underserved" in terms of access to broadband services. Santa Cruz County Supervisor Bruce Bracker agreed, stating, "60% of rural residents do not have access to broadband."
Bringing these topics to a wider audience, the panel discussions highlighted key issues impacting rural Arizona communities. Rural Arizona residents, according to the speakers, are questioning the costs economic development and tourism could have on their way of life. Jonathan Koppell, dean of ASU Watts College of Public Service and Community Solutions, suggested that as leaders search for solutions, "we have to avoid the temptation to assume that what is good for one community is good for another."