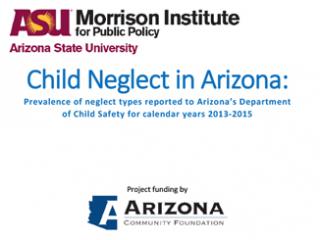 Reports and Publications
October 2017
Erica Quintana, Jade Sun, Andrea Whitsett, Dan Hunting, Robert Vagi Ph.D., Joseph Garcia, Thomas D. Morton, Melissa Kovacs Ph.D.

This is the third in a series of briefs in which Morrison Institute for Public Policy will report on selected aspects of Arizona's child welfare system.

Spotlight on Arizona's Kids is intended to help state leaders, child advocates, and others develop the most effective prevention strategies.

Morrison Institute's first white paper discussed the less visible but more common side of child maltreatment: neglect. Our second white paper discussed family conditions that can influence a family's subtle "drift" towards unsafe situations that often correlate with neglect and examined how the different types of prevention might help interrupt the "drift into failure."

This paper analyzes Arizona Department of Child Safety data to identify the prevalence of various types of neglect in Arizona reports. Future papers will research, analyze and discuss prevention services in Arizona and elsewhere, with an emphasis on best practices.

These collective efforts are intended to help state leaders, child advocates and others discuss and identify the most-effective child abuse and neglect prevention strategies.

Spotlight on Arizona's Kids is funded by the Arizona Community Foundation.