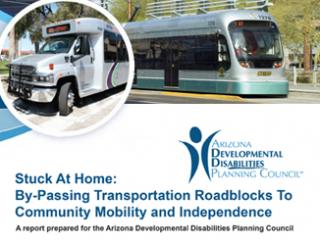 Reports and Publications
August 2017
Erica McFadden, Eric Hedberg

Mobility is crucial to everyday life in rural and urban settings, and for individuals with disabilities and low-income populations public transportation can be a major obstacle to keeping them socially engaged. For some individuals, public transportation is their sole way to see a doctor, get groceries and maintain employment. A 2015 survey of individuals with developmental disabilities in 28 states found that Arizona is the worst when it comes to reliable transportation. What can Arizona do to increase funding and continually improve its transportation services? This report examines some avenues to mobility.