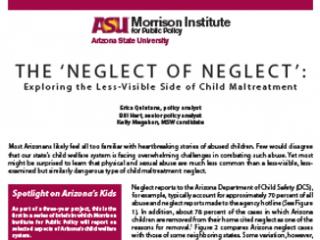 Reports and Publications
December 2016
Erica Quintana, Bill Hart, Kelly Megahan

Spotlight on Arizona's Kids

As part of a three-year project, this is the first in a series of briefs in which Morrison Institute for Public Policy will report on selected aspects of Arizona's child welfare system.

Future papers will research, analyze and discuss prevention services in Arizona and elsewhere, with an emphasis on best practices.

A separate report will address the federal Title IV-E Waiver, as utilized in Arizona. Also, Department of Child Safety data will be analyzed to identify the prevalence of various types of neglect in the state.

These collective efforts are intended to help state leaders, child advocates and others develop the most-effective child-welfare policies.

The Spotlight on Arizona's Kids project is funded by the Arizona Community Foundation.

The publication can be found below as a PDF document.