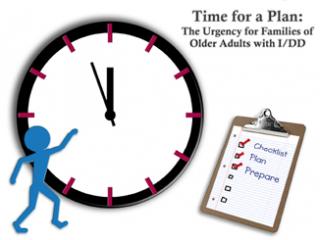 Reports and Publications
June 2016
Erica S. McFadden, Ph.D.

Arizona has one of the nation's highest rates of people with I/DD living with caregivers aged 60-plus. And with almost one in five Arizonans 60 years old and older, we wanted to know how – and if – these growing numbers of lifetime caregiving families and aging adults with I/DD were planning ahead. The recent report "Time for a Plan: The Urgency for Families of Older Adults with Individual and Developmental Disabilities, shares what we learned from 40 adults with I/DD ages 40 and older and their family caregivers. Commissioned by the Arizona Developmental Disabilities Planning Council, the study included focus groups conducted across Arizona with families involved in different stages of the planning process.