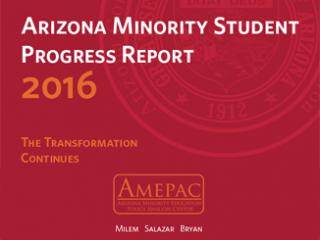 Reports and Publications
March 2016
Dr. Jeffrey F. Milem, Karina G. Salazar ,W. Patrick Bryan

The Arizona Minority Education Policy Analysis Center (AMEPAC) is a policy center of the Arizona Commission for Postsecondary Education. Through studies, AMEPAC's mission is to stimulate constructive statewide discussion and debate about improving Arizona minority students' early awareness, access, and achievement throughout the educational attainment process. Our vision is that all Arizona students succeed in higher education as a result of quality research that shapes policy on critical issues.

AMEPAC is proud to provide policymakers, educators, and the public with this 6th edition of the Minority Student Progress Report titled The Transformation Continues: Minority Student Progress Report 2016. The report provides a current "snapshot" of the educational achievement of minority students in Arizona, from pre-k through postsecondary education. In addition, trend analyses of key educational indicators are also provided to give readers a sense of how the status of minority education in Arizona has changed over time.