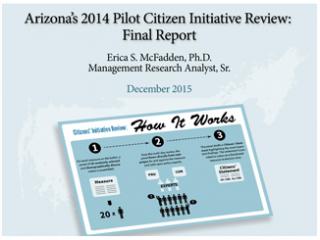 Reports and Publications
December 2015
Erica S. McFadden Ph.D., David Daugherty Ph.D., John Gastil Ph.D., Katherine Knobloch Ph.D., Daniel Schugurensky Ph.D., Joseph Garcia, Avanti Haque

In September 2014 ASU's Morrison Institute for Public Policy conducted the state's first Citizens Initiative Review (CIR). MI invited 20 participants to deliberate for 3½ days over a pension reform measure on the city ballot to develop a factually vetted, one-page Citizens' Statement with the pros and cons of the initiative. The goal of the CIR is to help other voters make a more informed decision on specific initiatives before going to the ballot box.  This report, funded by the Kettering Foundation, analyzes CIR participant interviews conducted six weeks and six months later to show how values, beliefs, and behaviors towards democratic habits, public action, and community engagement may have been changed through their involvement, if at all. The report concludes with lessons learned and the contributions of the CIR to creating a more democratic Arizona.