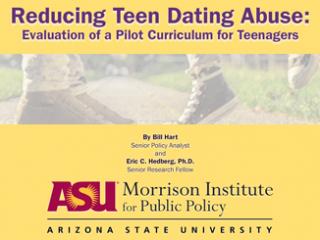 Reports and Publications
July 2015
Bill Hart, Eric C. Hedberg, Ph.D.

Many domestic violence offenders and victims are repeating patterns of belief and behavior formed in their teenage years. Experts agree that the most effective way to short-circuit teen dating violence is prevention – teaching teenagers how to form healthy relationships and to avoid or escape unhealthy ones.

Over the past few months, a Valley nonprofit organization, GoPurple.org, has provided classes to more than a thousand Phoenix-area teens on these topics. An analysis of their pilot program indicates that it has been effective in opening eyes and changing attitudes.