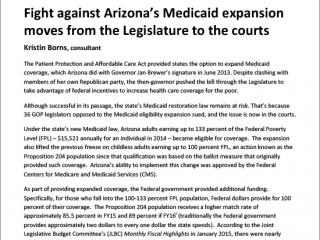 Reports and Publications
March 2015
Kristin Borns

The Patient Protection and Affordable Care Act provided states the option to expand Medicaid coverage, which Arizona did with Governor Jan Brewer's signature in June 2013. Despite clashing with members of her own Republican party, the then-governor pushed the bill through the Legislature to take advantage of federal incentives to increase health care coverage for the poor.

Although successful in its passage, the state's Medicaid restoration law remains at risk. That's because 36 GOP legislators opposed to the Medicaid eligibility expansion sued, and the issue is now in the courts.