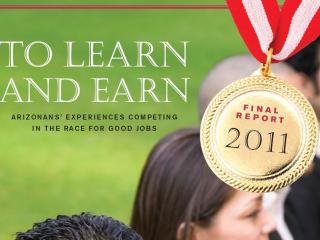 Reports and Publications
July 2011
Nancy Welch, William Hart, Judie Scalise, Richard Toon, C.J. Eisenbarth Hager, Joseph Garcia, Monica Stigler, Andrea Whitsett

Nearly two years ago, the Arizona Minority Education Policy Analysis Center (AMEPAC) launched an effort to re-examine Arizona's educational achievement and economic prospects for the 21st century. Phase I of this research, titled To Learn and Earn: Arizona's Unfinished Business in Human Capital, was published in March 2009. The report noted the ample evidence that economic growth is now based on ideas and innovation, that science and technology are driving global economic changes and that the national and international competition is fierce.