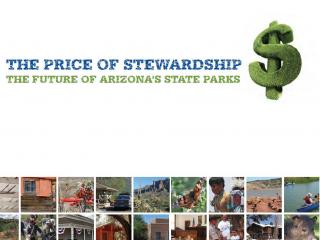 Reports and Publications
October 2009
Grady Gammage Jr, Nancy Welch, Dave White, Bill Hart, Monica Stigler, Yuri Artibise

Arizona, which had more national parks and monuments than any other state, was the last state to designate state parks in 1957. Regrettably, since 2003 the Arizona Legislature and the state's governors have eroded support for state parks in reducing General Fund appropriations, "sweeping" cash from dedicated funds and forcing the agency to survive on park-produced fees and pieces of indirect user levies, set asides and federal dollars.

Simply put, without a stable, sustainable funding, Arizona's state park system will not be able to survive.

This report looks at proven methods using creative financing mechanisms to not only keep open Arizona's state parks, but repair and improve them.