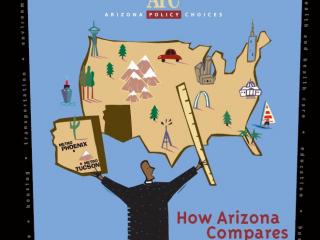 Reports and Publications
January 2005
Rob Melnick, Nancy Welch, Bill Hart

Arizona Policy Choices volumes have gained notice in Arizona and across the country for creative content and clear communication. This tradition continues with How Arizona Compares: Real Numbers and Hot Topics. The publication offers comparative data and analysis on 10 public policy issues. With its scope and detail, How Arizona Compares will be of interest to many throughout Arizona and, I hope, encourage leaders and residents to discuss and move ahead on the state's most pressing public policy issues. I invite you to study How Arizona Compares and to use this publication for dialogue and action.