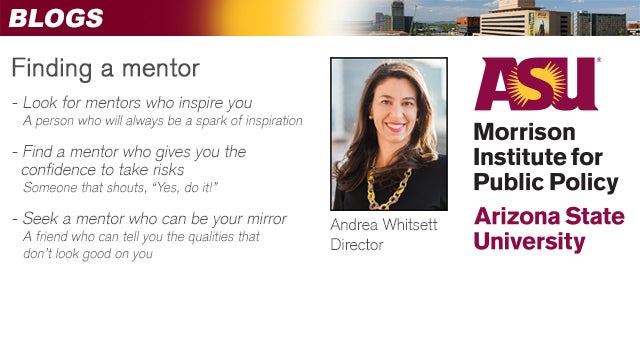 Andrea Whitsett
March 7, 2019
It is a somewhat daunting task delivering a keynote address on mentoring before a group of distinguished women leaders and rising professionals. OK, drop the "somewhat" part. But when asked if I would speak at the Phoenix Business Journal Mentoring Monday event on Feb. 25, I welcomed the challenge.

While I'll always regard my professional development as an ongoing journey, I am sharing a few key points from my speech because we need not wait until we arrive at some particular career destination to share insights with those around us. We're not on separate ladders – rather we are connected in our aspirations and growth as leaders. I hope all of us are sharing our "ah ha! moments" and "lessons learned" generously and candidly with one another. In that spirit I offer three tips on qualities to seek in role models and mentors.

1. Look for people who truly inspire you.
Fortunately, I did not have far to look. My late grandmother, Julieta Bencomo, continues to be a great and continual source of inspiration to me. She was appointed to the State Board of Education by Governor Bruce Babbitt in 1979. She was the first Latina to serve on the board and was later its vice president. Even though her sharp-tongued style of activism is quite different than my own style, she will always be a spark of inspiration for me. We must seek mentors and role models whose lives and accomplishments give us an adrenaline rush – a surge of passion for activating change in the world around us. People who make us believe anything is possible – and help us realize we are just the individuals to make that happen. You can read more about Julieta Bencomo in Latinas in the United States, set: A Historical Encyclopedia.

2. Find a mentor who gives you the confidence to take risks.
For me, this woman was Sue Clark-Johnson. Sue began her career as a reporter at a small newspaper in upstate New York. She rose quickly, becoming one of the nation's first female top editors and eventually the President of Gannett Co.'s publishing division with responsibility for more than 100 newspapers. She definitely was a pioneer in her profession, which at the time was dominated by men. But she was much more than that. Sue was known for her charisma, her generosity, her big vision, and her intuitive, decisive leadership style. After retiring from the newspaper industry, Sue served as executive director of Morrison Institute with a passion for positively impacting the quality of life for Arizonans through sound public policy. When Sue and I met, I was relatively early in my career and fairly new to ASU. She continually injected me with confidence and taught me how to carry myself as a leader. Often the thing we need to be told most is not how to be a leader, we need someone to look us in the eye and tell us we are a leader. Sue did that for me and I am deeply grateful. Sue passed away far too early, but she remains that voice in my head that shouts, "Yes, do it!", when the cautious part of me wants to stay on the safer path. We all need a mentor who empowers us to leap.

3. Seek a mentor who can be your mirror.
This is the aspect of mentoring that requires a deep foundation of trust. Because when I say you need a mentor to be your mirror, I don't mean the kind with vanity lighting. You want a mentor who can tell you the qualities that don't look good on you. Tell you when you need to hit the gym – so to speak – on content expertise, or effective management skills or media training. We all need a safe space to receive critical feedback – usually from a person who is just enough removed from our work or personal sphere that they can be objective. A mirror because a good mentor isn't trying to recreate you in their own image of success. They see who you are. They help you reflect on your natural strengths and style. As I think about the people – both women and men – who have been great mentors in my own life, they are all radically different types of leaders than myself, but they all have helped me gain insight and confidence.

At the Mentoring Monday event, I was speaking to a group of women professionals, but really I could have been speaking to anyone – regardless of age, gender, education or occupation. I offer the aforementioned advice to anyone who might see themselves in the mirror as something more than the present-day image looking back. We all can be so much more and mentorship is a powerful way to pursue that vision.