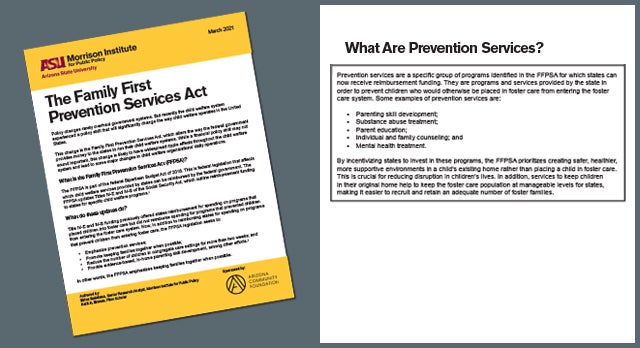 Policy changes rarely overhaul government systems. But recently the child welfare system experienced a policy shift that will significantly change the way child welfare operates in the United States.

This change is the Family First Prevention Services Act (FFPSA), which alters the way the federal government provides money to the states to run their child welfare systems. This change is likely to have widespread ripple effects throughout the child welfare system and lead to some major changes in child welfare organizations' daily operations.

The FFPSA is part of the federal Bipartisan Budget Act of 2018. This is federal legislation that affects which child welfare services provided by states can be reimbursed by the federal government.

The FFPSA legislation seeks to:
• Emphasize prevention services;
• Promote keeping families together when possible;
• Reduce the number of children in congregate care settings for more than two weeks; and
• Provide evidence-based, in-home parenting skill development, among other efforts.

By incentivizing states to invest in these programs, the FFPSA prioritizes services to keep the foster care population at manageable levels for states, making it easier to recruit and retain an adequate number of foster families.