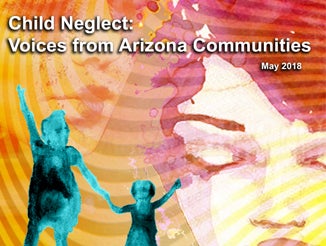 From its inception, the "Spotlight on Arizona's Kids" project was a different type of initiative undertaken by Morrison Institute for Public Policy and none more important – the safety and well-being of children whose lives intersect with the child welfare system.
This multi-year project, funded by Arizona Community Foundation (ACF), includes data and expertise provided by Arizona Department of Child Safety (DCS), along with input from national and local child welfare experts.
To date, the project has produced five publications that examine the breadth and complexity of issues related to child neglect with the goal of informing effective policy in Arizona.

Part One:
The 'Neglect of Neglect'
Part Two:
Preventing Families' 'Drift Into Failure'
Part Three:
Child Neglect in Arizona, an analysis
Part Four:
Supervisory Neglect in Arizona: Facts, Issues, Opportunities
Part Five:
This current report, Child Neglect: Voices from Arizona Communities, furthers that discussion as researchers from Morrison Institute held community conversations in Coconino, Pima, Yavapai, Cochise and Yuma counties from July 2017-January 2018 to discuss child neglect, local community strengths and unmet needs.