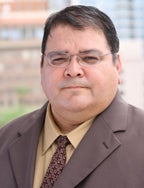 Joseph Garcia
September 6, 2018
For the first time, more than 1 million Arizonans cast ballots in the primary election. That's great news. But does the historic vote mean the so-called voter crisis is over?
Well, the Arizona voter turnout is being touted at 33.2 percent among registered voters. That's 3 percentage points better than in 2016. But the fact of the matter is, there are still too many otherwise eligible voters not engaged in the election.
A healthy democracy requires participation.
Arizona Primary Elections: Primarily Forgotten brought attention to this void. The recent report by ASU Morrison Institute for Public Policy noted that only about one in five eligible voters – those Arizonans who are U.S. citizens and age 18 or older, regardless of registration status – cast ballots in the 2016 primary. One in five.
Turnout of 1.2 million voters in this year's primary may break the record, but when broken down among the state's more than 5 million eligible voters, the participation level is less than one in four. One in four.
Improvement? Yes, absolutely.
Voter crisis resolved? Not so much.
Consider that two-thirds of Arizona's nine congressional races and two-thirds of the state's 30 legislative races are considered "safe districts," bounded areas that overwhelmingly favor one major party's candidates over the other's. In these cases, often without a challenge by the minority party, the primary contest is the de-facto election decided by far fewer voters in August than in November.
The result: Our representative democracy is not representative of the people, but only a fraction of the people – less than one in four eligible voters in the primary – whose demographics do not match those of the general population.
There is a silver lining in the dark clouds. The hope, of course, is that the 2016 primary election is a foreshadow of voter numbers continuing to grow for the upcoming general election. While any improvement in voter engagement is welcomed addition, there is no guarantee of permanent achievement. One good rain does not end one long drought.
In 2016, there were 2.6 million Arizona votes cast in the general election. But again, there also were 2.1 million potential voters who did not exercise their fundamental right at the polls, as noted in the ASU Morrison Institute report, Arizona's Voter Crisis.
A record turnout of 3 million voters in the Nov. 6 general election – a lofty goal, indeed – could be a watershed moment for democracy's better days ahead.
The last day to register for the general election is Oct. 9, with early ballots to be mailed out the following day. To register to vote, go to the Arizona Citizens Clean Elections Commission website: azcleanelections.gov/en/register-to-vote.