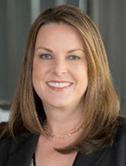 Ann Becker
Vice President, Sustainability
Arizona Public Service Company
Ann Becker is vice president, sustainability for Arizona Public Service Company (APS). Based in Phoenix, APS is Arizona's largest electric company and serves nearly 1.3 million customers across the state.
Becker is responsible for the company's sustainability strategies, with a focus on integrating ESG (environmental, social and governance) standards across the company's core business operations.
Becker most recently served as vice president and chief procurement officer, responsible for the company's extensive supply chain, procurement, warehousing, logistics, facilities and transportation functions. Prior to that, she was vice president, environmental and chief sustainability officer and served as associate general counsel for APS's parent company, Pinnacle West Capital Corporation, with responsibility for the environmental, labor and employment, commercial and litigation legal teams. Before joining the Pinnacle West law department in 2001, Becker practiced with the law firm of Foley & Lardner in Milwaukee, Wisconsin.
Becker is on the board of Grand Canyon Conservancy. She received the 2017 Most Influential Women in Arizona award from Arizona Business magazine.
Becker graduated from Marquette University Law School and from the University of Northern Iowa. She completed the Executive Program for Women Leaders at Stanford University and the Nuclear Reactor Technology Program at MIT.