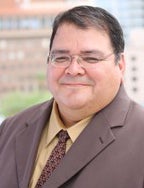 Joseph Garcia
January 31, 2017
There is no way to feel anything but both discouraged and optimistic when considering Latino education in Arizona.
I say "discouraged" because – despite laudable efforts that have resulted in some measurable improvement in recent years – Arizona remains on a collective track of dire economic consequences. Too few members of the state's fastest-growing population are graduating from high school and college.
And I say "optimistic" because our future isn't yet cast in stone, so it's not too late to change the negative projections outlined by the 2012 report, Dropped? Latino Education and Arizona's Economic Future, into game-changing and lasting positive outcomes – if we can close the Latino attainment gap.
That's a big "if," but today I am more optimistic of accomplishing that challenge after speaking with a dynamic new generation of educators and instructors at the Teach For America-Phoenix Education Summit on Jan. 28. The fresh-faced reinforcements were a welcomed sight.
My panel, "Exploring Latino Education in Arizona," featured Edmundo Hidalgo, ASU vice president for outreach and partnerships; Rosemary Ybarra-Hernandez, CEO and founder of AGUILA Youth Leadership Institute; and Claudio Coria, former principal of Alhambra High School and current executive director of leadership at Phoenix Union High School District. Moderating the discussion was Vince Yanez, vice president for Arizona Student Success Initiatives at Helios Education Foundation.
My fellow panelists are all proven veterans in the continual battle against dropouts and underachievement. They made frequent reference to the Dropped? report in framing the conversation, including that:
The average years of education for Latino head of households is 11th grade.
There are more Latino kids in Arizona's K-12 system than non-Latino children.
Virtually all such Latino children are U.S. citizens, having been born here.
Only 11 percent of Latino adults have obtained a bachelor's degree or higher.
Only about 64% of Arizona Latino adults have graduated from high school.
By 2030, an estimated 62 percent of Arizonans living in poverty will be Latinos.
Due to the large number of young Latinos entering the workforce without marketable skills or a college degree, Arizona's average income on the whole will drop (hence, the report title) by nearly $3,000 by 2030.
Arizona is expected to become a majority-minority state by 2030 – nearly 15 years ahead of the rest of the nation.
There is no doubt that Latinos will become an even greater part of Arizona's demographics in the days and years to come, including in our workforce and consumer base. The big question is whether Arizona will invest enough in its own future by making a concerted and statewide effort to close the Latino educational attainment gap. Arizona has the opportunity to tap into an energetic human resource to become a great economic power, or it can fall into a permanent second- or third-tier player among stiff regional and national competition.
There is much more work to be done with no time to waste as every year more and more Latinos are entering the workforce without the necessary skills, knowledge or higher-education degree to excel and prosper. As Teach for America-Phoenix website notes: "Arizona is ranked 50th among states for percentage of high school graduates who attend college."
Access ASU, a strategic yet pragmatic comprehensive effort to increase the college-going rates for all high school students, is a leader among those working on changing that equation. Over the last decade the number of Arizona low-income undergraduate students attending ASU has doubled from 10,851 low-income students in 2004-2005 to 19,692 low-income students in 2014-2015.
Many of the aforementioned students are Latino, since Latinos make up a disproportionate percent of individuals and families living in poverty (in large part, of course, due to many heads of household not graduating from high school or college and the fact that poverty is the No. 1 factor in determining education outcomes regardless of race or ethnicity).
Despite such gains, the number and percentages of Latinos receiving degrees is still falling short of the mark to elevate Arizona to top-tier status.
Education is the great equalizer not just individually but collectively. We soar or we sink together. The Dropped? report underscores the inherent relationship between education and success. Demographics indisputably show that as Latinos go, so goes Arizona.
As Teach For America so aptly continues to demonstrate, a single teacher can still make a big difference in the classroom in helping kids visualize and then realize their potential and life's possibilities through education.
And for that, today I am both hopeful and thankful.